Portsmouth-Isle of Wight passenger ferry 'will be profitable'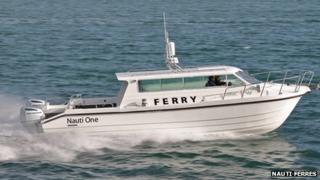 A planned 24-hour cross-Solent ferry service can be profitable despite other operators facing difficulties, the businessman behind it has insisted.
Charter boat owner Paul Duffield intends to start the first round-the-clock passenger service between Portsmouth and Cowes, in 2014.
Existing ferry firms have blamed high fuel costs for cuts to their services and recent increases in ticket prices.
Mr Duffield said "intense competition" would benefit passengers.
The Portsmouth businessman who runs Nauti Boat Charters, plans to use two 18-seat craft to cross the Solent in 25 minutes, up to three times an hour.
'Create jobs'
He believes a business model of running small boats at close-to-full capacity can be more profitable than the large craft used by established carriers that use more fuel and frequently sail under capacity.
He said the Isle of Wight-built Cheetah Marine boats use 25 litres of fuel per journey, compared to the 700 litres used by larger types of passenger craft.
He has based the idea on ferry services operating successfully in Hong Kong and Norway.
Mr Duffield believes the 24-hour service will enable London commuters to make a later return journey from the capital.
"Intense competition is good for regular commuters and tourists," he said.
The scheme is being part-funded with a £50,000 grant from the Solent Local Enterprise Partnership Bridging the Gap fund.
Mr Duffield said "at least 12 jobs" would be created when the service starts in February.
Wightlink and Hovertravel currently run passenger services between Portsmouth and Ryde, with RedFunnel's RedJet operating between Southampton and Cowes.
Wightlink reduced its Fast-Cat timetable at the start of this month, with the last service departing Portsmouth at 22:15.
'Competitive market'
Julia Bridgeman, spokesperson for the Solent Ferry Users' Group said the plan was "interesting".
"Anything which brings competition has to be a good thing - if they get it up and running," she explained.
However, she expressed reservation that if passengers switched from existing providers, "it could could provide them with even more of an excuse to cut back".
Wightlink said the company recognised it operated in a "competitive market".
"We believe that competition helps to drive up standards and keep prices affordable," said a spokesperson.
"We will continue to work hard to provide a reliable and punctual service, which meets the needs of the overwhelming majority of our customers, as well as continuing our programme of investing in new ships and port facilities."