Weyhill petrol station cash machine blast driver jailed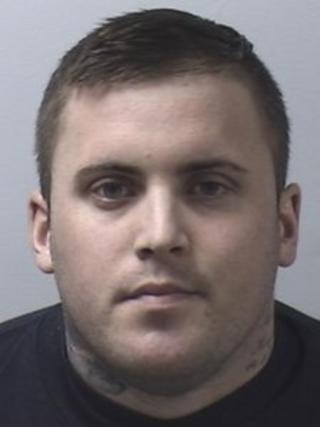 A man who admitted driving a gang to a petrol station where a cash machine was blown up has been jailed.
Damien Limb, from Bristol, was arrested after the blast at the Texaco station in Weyhill, Hampshire, in March.
Gases piped into the cash machine caused an explosion, leaving banknotes strewn on the ground.
At Winchester Crown Court, Limb, 27, was jailed for three years and six months for conspiracy to steal and conspiracy to cause criminal damage.
The court heard Limb, of Litchfield Road, Brislington, claimed he had remained in his van throughout the raid.
'Fortunate to be alive'
The explosion at 03:15 BST on 31 March caused damage to the building estimated to cost £165,000 to repair, although no-one was hurt. Debris was hurled nearly 40m away.
The masked gang prised open the cash machine with a crowbar before pumping oxygen and propane gas into it. It ignited after 40 seconds.
The cash machine contained £20,000 but the gang only managed to scoop up £3,400.
Speaking after the case, Det Con Paul Harfield said: "The gang is fortunate to be alive because they had no control over that explosion and they could hurt others."
Limb was traced by police who followed a trail of cash and wheel tracks from the scene to beneath a bridge, where a receipt for water and petrol from a garage in Bristol was found.
CCTV from that garage identified Limb.
Sentencing him, Judge Jane Miller QC said because the other gang members had not been found, Limb was "taking the rap" and even though he was not there he had to take responsibility for what happened.