Passengers on Duchess of Cambridge-named liner flown home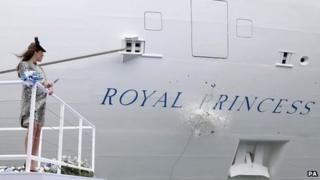 Passengers on a cruise liner named in tribute to the Duchess of Cambridge are being flown back to the UK after it lost power in the Mediterranean.
The Royal Princess suffered a power outage between Mykonos and Naples this week and is being taken to Barcelona for repairs.
It was named by the duchess in a ceremony at Southampton in June.
Operator Princess Cruises, which is based in the city, said those affected would get "a full refund".
Passengers were taken to Naples for flights home while the crew stayed on board for the trip to Spain.
A spokeswoman for the operator said a "care team" had been "dispatched to Naples to ensure that all our passengers are provided with any assistance they may require".
The Royal Princess is due to embark on a 30-day cruise on Friday, finishing in Fort Lauderdale in the United States, but the operator said that voyage may be in doubt.
The spokeswoman said passengers would be "fully advised as details become known".
The 141,000 tonne ship, which has 1,346 crew members and can house up to 3,600 passengers, is also scheduled for two Caribbean voyages in 2013.
It was named by the duchess in her last solo public engagement before she gave birth to her son, Prince George, in July.