Romsey WWI war horse memorial model unveiled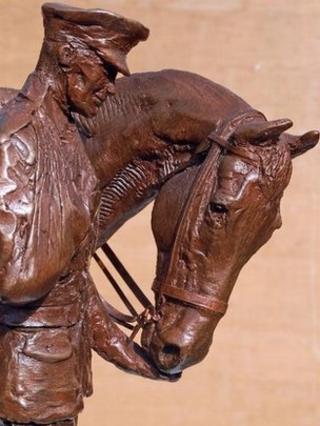 Campaigners for a permanent memorial to the thousands of horses shipped into battle during WWI have unveiled a bronze model of their statue.
About 120,000 of the 1.3 million horses and mules involved in the conflict passed through a giant military depot just outside Romsey in Hampshire.
Romsey War Horse Project is fundraising for a life-size statue in the town's Memorial Park.
It plans to erect the monument in early 2015, 100 years after the depot opened.
Chair Phoebe Merrick said £10,000 of the £55,000 needed had so far been raised.
The Romsey Remount Depot at the top of Pauncefoot Hill had been all but forgotten when accounts were unearthed by Ms Merrick, a local historian, a few years ago.
The 500-acre site housed 2,000 staff and processed tens of thousands of wild horses from all over the world between 1915 and 1919.
Buildings dismantled
During World War I horses were still the primary means of transporting men and equipment, and according to Ms Merrick "the horses were the reason the allies triumphed".
She said: "They had North America and the rest of the world to get their horses from, while Germany only had Ukraine to rely on, other markets were closed to them."
Horses arrived by train or were shipped into Southampton docks, before being guided up through the streets to the depot near Ranvilles Farm.
The animals and their military handlers were then trained there before being despatched to the battle fronts.
Only about one in 10 horses survived the war.
The buildings at Romsey Remount Depot were dismantled after the war and memories of it faded.
The site is now just farmland with no signs left of the barracks and stables.
But Ms Merrick said: "It was hardcore from the site that they used as foundations in the war memorial park.
"It seems that would be the place to put it."
The statue is being produced by local sculptor Amy Goodman, who said: "Being involved in the War Horse Project is such an honour.
"I wish to convey the powerful bond between horse and soldier, despite their hardship through war."
Her scaled down model won the British Sporting Art Trust Best Sculpture award at the annual Society of Equestrian Artists' exhibition - Horse in Art - in London two weeks ago.