New £1.5m church in Bournemouth opens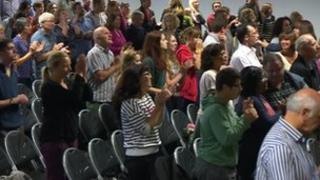 A new church built in Dorset at a cost of £1.5m has held its first service.
More than 700 worshippers attended the Citygate Centre, on Holdenhurst Road, Bournemouth.
The new building, which forms part of the recently completed Dorchester House student accommodation block, boasts a 750-seater auditorium, café, seven function rooms and church offices.
The church said it was bucking the national trend with membership growing by 10% year-on-year.
Guy Miller, lead church elder, said: "Our vision has always been to be build a community centre for the town of Bournemouth and to influence every area, particularly the ones most people tend to try to ignore like the broken, the asylum seekers and the people who are poor."