Isle of Wight swimmer Anna Wardley's rice pudding secret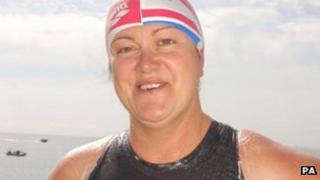 An "exhausted" endurance swimmer who swam solo around the Isle of Wight has revealed one of her secrets to success was rice pudding.
Anna Wardley, from Gosport, Hampshire, completed the 60-mile (96.6km) route from Ryde Sands in a time of 26 hours, 33 minutes and 28 seconds.
She said the thought of a food stop every 30 minutes kept her going as well as messages from around the world.
It was part of a five-island challenge to raise money for charity.
She successfully completed swims around the island of Dragonera off Mallorca, Portsea and Jersey, last year.
Chocolate mousse
She abandoned her attempt to swim around the Isle of Tiree in the Inner Hebrides in August after she began hallucinating from the effects of the cold water, and was unable to breathe properly.
Ms Wardley, 37, who only took up swimming about six years ago, said: "I'm utterly exhausted but over the moon.
"My arms are quite sore this morning, I can just about lift [them] in the air but it's a bit of a struggle.
"You get into a rhythm where its actually strange when you stop.
"It's like being extremely jet-lagged and upside down and I don't know whether it's day or night, or what day of the week it is."
The swimmer said her support team did a great job of relaying messages of support.
They also blew a whistle every 30 minutes to signal a food stop.
"I think in a way that's the secret to my success, I am very good at eating when I'm swimming so I can get energy onboard," Ms Wardley added.
"I have all sorts, like pasta, rice pudding, chocolate mousse, Percy pigs, tea cakes.
"When you're swimming - and sometimes you're going through hell - all you've got to look forward to for that 30 minutes is your next feed stop so I try to have things I really like."
The money raised will go to the Samaritans, Ellen MacArthur Cancer Trust and Sail Africa, which offers sailing courses for young people in South Africa.