Anna Wardley successfully completes solo Isle of Wight swim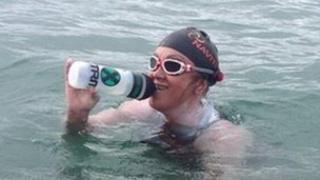 A Hampshire woman has successfully completed her bid to swim solo round the Isle of Wight.
Anna Wardley, 37, from Gosport, completed the 60-mile (96.6km) route from Ryde Sands.
It was expected to take 30 hours, but she did it in 26 hours, 33 minutes and 28 seconds.
It is part of a five-island challenge and follows completed swims around the island of Dragonera off Mallorca, Portsea and Jersey, last year.
She abandoned her attempt to swim around the Isle of Tiree in the Inner Hebrides in August after she began hallucinating from the effects of the cold water, and was unable to breathe properly.
Money raised during the five-island challenge will go to the Samaritans, Ellen MacArthur Cancer Trust and Sail Africa, which offers sailing courses for young people in South Africa.
Kevin Murphy is officiating the attempt on behalf of the British Long Distance Swimming Association. He was the first person to swim round the island in 1971.
Only three people have completed the feat with the last successful attempt in 1984.