Anna Wardley attempts Isle of Wight solo swim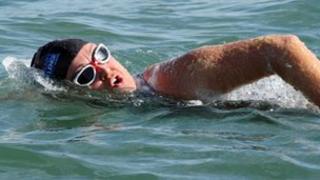 A Hampshire woman is attempting to swim solo around the Isle of Wight.
Anna Wardley, from Gosport, started the 60-mile (96.6km) route from Ryde Sands at about 10:15 BST. It is expected to take around 30 hours.
It is part of a five-island challenge and follows completed swims around the island of Dragonera off Mallorca, Portsea and Jersey, last year.
She abandoned her attempt to swim around the Isle of Tiree in the Inner Hebrides in August.
Ms Wardley's support team called off the planned 30-mile (48.2km) swim after she began hallucinating from the effects of the cold water and her chattering teeth prevented her from being able to breathe properly.
'Lucky nails'
She said she still intended to attempt that swim, insisting the Solent will seem "like a hot bath" in comparison with the waters around Tiree.
In a statement on Facebook, she said: "The lucky nails are in situ, the legs have been waxed for optimum hydrodynamic efficiency, my food is prepped, kit is ready to go."
Ms Wardley began her five-island challenge on 27 May last year when she swam six miles (10km) around the uninhabited island of Dragonera, off the south-west coast of Mallorca.
This was followed by a 13-mile (21km) route around Portsea Island, on which the city of Portsmouth is built, and a 41-mile swim (66km) around Jersey.
Kevin Murphy was the first person to swim around the Isle of Wight, in 1971.
He said: "A swim in excess of 24 hours is among the toughest in the world, and there aren't many people who can do it.
"Getting through The Needles is something of an adventure, especially in the dark, and the sea can be very rough off St Catherine's point.
"No solo swimmer has ever managed to get to Bembridge to catch the tide, which means we've all had six hours of swimming against it going nowhere before being able to make progress again."
Money raised during the five-island challenge will go to the Samaritans, Ellen MacArthur Cancer Trust and Sail Africa, which offers sailing courses for young people in South Africa.