'Failings' over death of Portsmouth three-week-old baby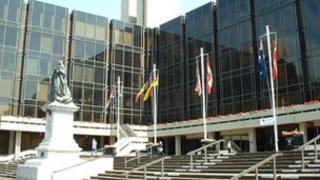 A three-week-old baby died after agencies failed to work together to support her family, a Serious Case Review has found.
The girl's four half-siblings were already subject to protection plans and in the care of relatives over welfare concerns when she was born.
She was put into the care of her grandmother in Portsmouth but died in her sleep of natural causes in 2011.
Portsmouth council has apologised to the family for its failings.
The review found the council appointed inexperienced social workers to the case despite the family having a significant history of contact with its children's services department.
'Fractured ribs'
The council's responses have included an increase in the number of solicitors dedicated to child protection work and closer scrutiny of arrangements before a child is placed with a family member.
The review revealed an Interim Supervision Order placed the girl, known as Child D, under the care of her grandmother after her birth.
She was found lifeless in the bedroom of her grandmother's home some days later after being left overnight with her aunt, whom herself was described as "vulnerable".
No prosecutions were brought and the coroner later ruled the death could not have been prevented, although the report said safe-sleeping advice should have been followed.
The family had a substantial history of contact with Portsmouth children's services and other agencies.
Between 2008 and 2010 unexplained injuries on Child D's half-siblings were investigated.
One had suffered eleven rib fractures, a broken bone close to his ankle and a possible compression fracture on his spine but it was deemed there was "insufficient evidence" for a prosecution.
There were no concerns about the care provided to Child D by her family during her short life but the review found failings in support provided to the family.
'Improvements made'
It said there was a lack of assessment, planning and review in agencies' work.
Inexperienced social workers were managing the case and there were "multiple weaknesses" in the advice and support provided by Portsmouth City Council's legal services team regarding the children's living arrangements.
Portsmouth City Council has accepted the findings but confirmed court proceedings put in place for the child had been deemed "satisfactory".
Julian Wooster, director of children and adult social services, said: "We fully recognise that the support the council provided for this family could have been better organised and we apologise for this.
"Although it also acknowledges that many of our practices have changed in that time."
Jimmy Doyle, chairman of the Portsmouth Safeguarding Children Board which oversaw the review, said: "Looking closely at the way organisations provided services for the child and her family, both individually and together, we have found ways these could have been improved.
"An action plan has been developed to make sure these improvements take place and [there is] evidence further improvements have and continue to be made."