Mike Hancock MP 'failed to observe Portsmouth council code of conduct'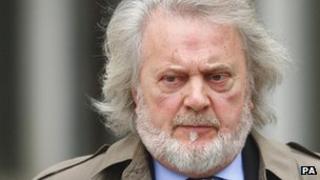 An independent report into the conduct of a Portsmouth councillor accused of sexual assault has found he failed to observe the council's code of conduct.
Mike Hancock, also the Portsmouth South MP, will be subject to a hearing by the city council to decide whether he acted in a way expected of a councillor.
At the hearing in a few weeks Mr Hancock could respond to the report and question its author Nigel Pascoe QC.
A spokesman for Lib Dem Mr Hancock said it was "not appropriate" to comment.
'Rigorously defending'
A Portsmouth City Council sub-committee will consider the complaint that the councillor breached its code of conduct, which includes failing to treat people with respect, using his position as a member improperly and bullying a person.
Mr Hancock is also involved in a civil dispute about sexual assault allegations made by a female constituent.
Reacting to the report, Mr Hancock's spokesperson said he was "denied" a meeting with Mr Pascoe, an independent barrister.
He added: "The police investigated matters from the complainant thoroughly and they found that there was no case to answer.
"Similar matters by the same complainant are subject to a civil dispute which Mike is rigorously defending."
Mr Hancock was arrested on suspicion of indecent assault in 2010 in connection with the sexual assault allegations.
He was never charged as the Crown Prosecution Service said there was insufficient evidence.
In June he resigned the party whip and said he was stepping down from the Liberal Democrats temporarily while he contested the allegations of sexual assault.
Mr Hancock was in the news in 2011 when he had an affair with his aide Katia Zatuliveter, who was accused of being a Russian spy.
The Special Immigration Appeals Commission said it had seen nothing to support the allegations against Miss Zatuliveter and she won an appeal against deportation.