Claire Reed family launch screening day after heart death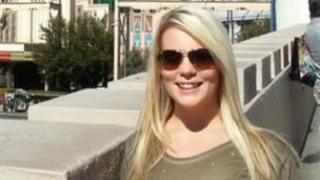 The family of a young woman who died from sudden adult death syndrome have organised a free cardiac screening day for young people in Hampshire.
Claire Reed, 22, from Botley, collapsed in February when her heart stopped working, despite being fit and healthy and showing no symptoms.
Her father Graham Hunter said he wanted to protect other families from the "tsunami of emotion" of losing a child.
The session for 100 people is being held at Fleming Park centre, Eastleigh.
More future screenings
The family of Mrs Reed, who got married five months before she died, have raised the £3,500 necessary to bring a mobile screening unit to the leisure centre.
The 100 young people aged between 14 and 35 have already registered to attend.
They will undergo an ECG (electrocardiogram) test and if necessary an echo test. Patients with negative results will be referred to a cardiologist.
Mr Hunter said: "To have a perfectly healthy young daughter who went to the gym, didn't smoke and drank in moderation, to just die like that - the emotion is really hard.
"We don't want anyone to go through the tsunami of emotion we have gone through."
Mrs Reed's family, including her husband Andrew Reed, have so far raised £25,000 for Cardiac Risk in the Young (Cry) and will look to set up more screenings in Hampshire in the future.
'Fewer deaths'
The family lobbied Health Secretary Jeremy Hunt in June for cardiac screening to be routinely offered to people under the age of 35 on the NHS.
The results of government research into this is due in late September.
According to Cardiac Risk in the Young (Cry), at least 12 people aged under 35 die suddenly each week in the UK of previously undetected heart problems.
The organisation, which works to raise awareness of the various conditions that can cause sudden adult death syndrome, said figures suggest a 90% drop in deaths in Italy since mandatory screening was introduced there.