British Army vehicles return from Afghanistan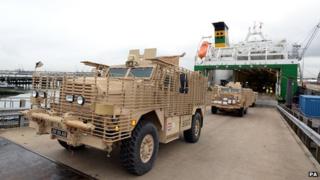 A ship carrying 94 Army vehicles has returned to the UK as the operation to withdraw British troops and kit is stepped up.
The cargo, including armoured Mastiffs, Jackals and Ridgebacks, arrived by ferry into Marchwood Sea Mounting Centre, Hampshire, earlier.
The vehicles will be repaired at Herrick Exchange Point in Warminster, Wiltshire, before being redeployed.
British combat troops are set to leave Afghanistan by the end of next year.
Defence Secretary Philip Hammond visited the Marchwood facility to oversee the operation and felt "value for money" was at the forefront.
He said: "We will only bring back kit if it is kit that we need and can use and the cost of bringing and putting it back into service is less than the cost of replacing it.
"This is being driven by a very aggressive value for money assessment.
"Anything that doesn't make it will either be sold or destroyed or gifted in situ."
The British armoured vehicles were either flown from Camp Bastion or driven overland through Pakistan before being loaded on to the giant ferry.
The ferry spent more than four weeks at sea, navigating through the Gulf of Oman, along the coast of Yemen, across the Red Sea and through the Suez Canal, before sailing through the Mediterranean, past Gibraltar and finally heading for UK shores.
More than 1,080 vehicles and pieces of major equipment have been redeployed to the UK, alongside 1,570 containers of materiel from Afghanistan.
Under current plans, around 3,345 vehicles or items of equipment and around 5,500 containers of material will be returned by the conclusion of the British combat mission in Afghanistan at the end of 2014, the MoD said.