Man admits trying to murder his mother in New Milton care home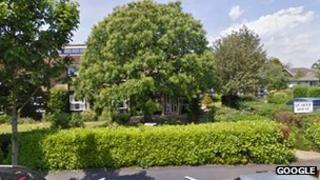 A man has admitted attempting to murder his 94-year-old mother by smothering her with a pillow at a Hampshire care home.
Ronald Barham, 74, who has dementia, attacked Elsie Barham on 7 March.
Winchester Crown Court heard that Barham "snapped" while visiting his mother at the Quaker House care home in New Milton.
Judge Guy Boney QC described the act as "about as tragic and upsetting a case as can be imagined".
The court heard Barham, of Three Acre Drive, New Milton, was a "dedicated" only son who visited his mother at the care home almost daily.
Dentures in throat
However Barham had raised concerns with care home staff about how long he could continue to fund her care.
On the day of the attack he shut the curtains in his mother's room and tried to smother her with a pillow before putting a hand around her neck and squeezing it.
When Mrs Barham's dentures became dislodged he tried to push then down her throat where they became stuck.
Barham also ripped his mother's personal alert from her neck to prevent her from summoning help, the court heard.
Prosecutor Kerry Maylin said: "She said she thought she was going to die and he did everything he could to end her life.
"But in her stoic way she did everything she could to stop him killing her."
'Saddened by attack'
Barham was only stopped when a staff member raised the alarm after visiting Mrs Barham's room, thinking she could hear her being sick.
On entering the room one worker pulled Mr Barham away from his mother and the manager dialled 999.
Barham was arrested at the scene and later told police he "snapped."
Jonathan Simpson, defending, said: "The guilt, contrition and time in custody, being deprived of family and his wife, and what had been hitherto 73 years of freedom, have had a massive impact on the awareness of Mr Barham as to his wrongdoing. He will live with that."
Det Con Robert Rees said: "It is a tragic case. We will never know what his motive really was for this.
"It appears to be a number of factors that have led to Mr Barham snapping.
"Elsie Barham continues to enjoy good health and she's recovered well, but obviously she's justifiably saddened by the assault."
Judge Boney remanded Barham in custody, saying an order would be made for him to be detained in hospital under the Mental Health Act on a date to be set.