Whitehill Bordon business park plans will create 500 jobs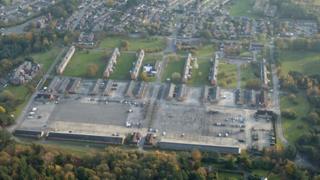 A former army barracks near Aldershot will be transformed into a business park and create around 500 new jobs, East Hampshire council has announced.
Louisburg Barracks in Whitehill Bordon will be developed with the help of a £1.2m Government award to form part of a so-called "eco-town".
Around 450 homes will also be built around 15 acres (6.13 hectares) of land earmarked for business development.
The council wants to attract companies that work in the sustainability sector.
Zero-carbon project
The £1.2m funding from the Department for Communities and Local Government will be used to prepare the site for development, which includes the design of an inner relief road and associated environmental assessment.
A developer for the site will be sought later this year.
The barracks is currently the home of a Royal Electrical and Mechanical Engineers training unit, but will be vacated as part of Ministry of Defence plans to centralise its training facilities at RAF Lyneham in Wiltshire.
Whitehill Bordon was one of six areas selected in 2009 for the government's zero-carbon project intended to meet housing needs and tackle climate change.
Up to three new primary schools, early years centres and a modern public transport system are also among the proposals for the area.