Hampshire Police search quarry for man feared drowned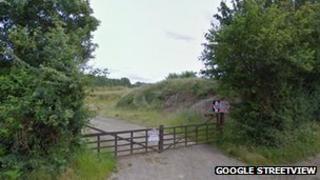 A man is feared drowned after apparently falling into a quarry.
The 22-year-old, from Fleet, Hampshire, is thought to have slipped and fallen into water near Alton around 18:15 BST on Saturday while there with friends.
The water, at Bakers Farm Nursery in Kingsley, is reported to be 40m (130ft) deep. The incident is believed to be an accident.
A search of the quarry is being carried out by firefighters and coastguard officers with the help of police.
Brian Rudman from Hampshire Fire and Rescue Service said: "We advise everyone to be extra vigilant around areas of water and to know the risks.
"Quarries are not for swimming, water may look safe but it can be very dangerous."