Margaret Young death 'not caused by hot tea spillage'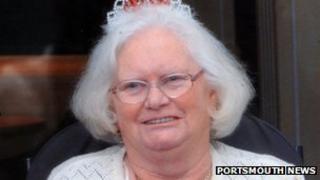 A woman who had tea spilt on her at a care home died from an unrelated skin infection, not a scalding injury, a coroner concluded.
An inquest in Portsmouth heard 73-year-old Margaret Young died in 2012 after suffering multiple health problems.
Her family believed tea was accidentally spilt on her at Beechcroft Manor Nursing Home in Gosport.
But coroner Karen Harrold concluded a red mark on her abdomen was most likely to have been caused by an infection.
She said it had not been the result of a thermal injury caused by a spillage of hot tea.
Mrs Young, a retired nurse, had been at the home for about a year, having been transferred from hospital after a fall at home.
'Special person'
She developed a sore and died in hospital in Portsmouth, on 20 June last year.
The coroner said there had been some issues with record keeping and communication at the nursing home, but these had been addressed with staff training and more internal and external checks.
She added two factors in combination led to the development of Mrs Young's sepsis - a soft tissue infection - mainly cellulitis and a kidney infection, while other significant factors in her death included heart disease, pneumonia and obesity.
The coroner read out a statement on behalf of Mrs Young's daughter Janet Young.
"My mother was a very kind and gentle special person I had the pleasure to know 48 years of my life and (I'm) finding it difficult to accept how she slipped from mine and my father's life the way she did.
"My thoughts are with my father today and hope the conclusion gives us some closure so my mum can rest in peace now. I love her and miss her dearly," she said.
A statement released by the care home described Mrs Young as a "much-loved resident".
"The home has worked closely with all of the appropriate authorities over the past year and has introduced new policies to improve communications, particularly during handover periods and when consulting with GPs.
"We have also introduced a new wound management plan, further training and internal and external audits to ensure standards are consistently maintained," it said.