Southsea beach gets three new lifeguard stations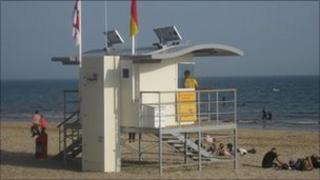 Three new lifeguard stations are being created on a Hampshire beach.
Portsmouth City Council has signed a three-year deal with the RNLI to extend cover to Southsea seafront, from Eastney to Clarence Pier.
The stations will be 150m (164 yds) apart and cover will be provided seven days a week during school holidays.
RNLI lifeguards will work together with Portsmouth and Southsea Voluntary Lifeguards, who also have a base there and provide year-round cover.
David Evans, seafront manager, said: "The seafront stretches for almost four miles and coverage of all our beaches means that people can feel confident when they visit Portsmouth and go for a swim.
"However, Portsmouth and Southsea Voluntary Lifeguards are there all year around and we will continue to support them."