Dead fish found in polluted Silchester and Foudry Brook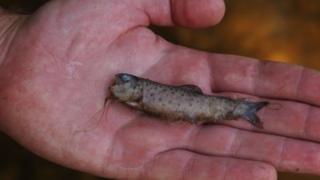 Dozens of fish have been found dead in a polluted stream in Hampshire.
About 50 fish, including trout, have so far been affected on a four-mile (8km) stretch of Silchester and Foudry Brook.
The Environment Agency (EA) said an unknown pollutant had been detected which had affected oxygen levels in the water.
It added officers were on site trying to establish the source of the pollution.
A member of the public alerted the EA to the problem on Sunday evening after noticing "discolouration of the water and a number of dead adult fish" on Foudry Brook, the agency said.
Chub, minnow, bullhead, stickleback and stone loach fish species have also been affected.