Your Golf Travel website 'copied' jobseeker's article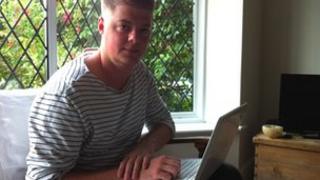 A job applicant has accused a travel firm of copying an article he wrote as part of the recruitment process after it appeared on its website almost word-for-word under a different name.
Ciaran Phelan, from Fareham, Hampshire, wrote a 750-word report about golf in Scotland as part of an application for a marketing role with Your Golf Travel.
He heard nothing back before spotting a very similar article on its site.
Your Golf Travel said it was published in error by a "junior" member of staff.
'Pretty annoyed'
Mr Phelan said he received an email on 7 August from Rebecca Harley who informed him he had made it through the first phase and asked him to write an article.
He sent his piece the next day and heard nothing back until it appeared, with small changes, on Your Golf Travel's 19th Hole blog on 16 August with the by-line "written by Rebecca Harley".
Soon after being contacted by BBC News, the firm removed the article and contacted Mr Phelan to offer him an interview, which he is unsure about taking.
The job applicant said: "I saw the title and thought it's the same article which I wrote, I wonder what theirs was? It was exactly what I've written. I was pretty annoyed.
"I don't see how it can be much of an error, they've altered it, added pictures, changed a few words... they've clearly gone through it all.
"I'm sure she [Rebecca Harley] doesn't remember writing it because she didn't."
Michael Coyle, an intellectual property lawyer based in Southampton, has examined both articles.
He said: "Ciaran has created a piece of work which is protected under the laws of copyright and they've added to it, tweaked it a wee bit, but it is copyright infringement."
But he admitted it would be costly and time consuming to take the matter further and there was "probably nothing for Ciaran to recover in terms of losses that he has suffered".
A spokesperson for Your Golf Travel said: "We receive hundreds of reviews and articles each week from many different sources that require proofing pre-publication and on this occasion, a junior member of our team failed to identify what was required.
"Ciaran was an applicant for the position of online marketing executive, a genuine position for which the recruitment process is ongoing."
The company has since contacted Mr Phelan again to express "deep embarrassment" and have offered him a free golfing trip to Scotland.