Margaret Young died 'from infection, not tea spillage', Portsmouth inquest hears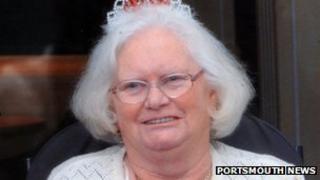 A woman who died days after she said tea was spilt on her had a bacterial infection, and not a scalding, her nurses have said.
Margaret Young, 73, claimed she was injured in June 2013 at Beechcroft Manor Nursing Home in Gosport.
She developed a sore and died in hospital in Portsmouth on 20 June.
An inquest heard she told a GP that a nurse had spilt tea on her. But nurses giving evidence said they believed she had cellulitis.
Mrs Young, a retired nurse, had been at the home for about a year, having been transferred from hospital after a fall at home.
She was diagnosed with a urinary tract infection in the three weeks leading up to the incident and a chest infection the day before, for which she was receiving antibiotics.
'Dying phase'
Senior nursing staff from the home told the inquest in Portsmouth that she had a red mark on her abdomen, but that it was an infection of the skin called cellulitis.
Mrs Young was given antibiotics, but the inflammation was not dressed. They said this was because the skin was not damaged or blistered at first.
In an accident report filled in by the agency care worker who brought Mrs Young a cup of tea, he wrote that she had complained she had spilt it on herself.
But a barrister representing the home has called Bestman Owhondah's explanations "confused" and the nurses did not believe a tea spillage occurred.
Alison Cannons, the deputy matron, said the mark was the size of her hand and was neither blistered or raised like a scald.
"Mrs Young was very unwell and tired and she didn't say to me the tea had been spilt," she said.
Colleen Tenniswood, a care home nurse, said: "Her body had already begun shutting down basically.
"She had so many other conditions... she was in the dying phase."
The hearing continues.