Fifth tourist point opens on Isle of Wight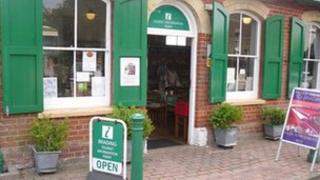 A fifth tourist information point has opened on the Isle of Wight, two years after the council closed all its information centres to save money.
The new site, at Brading Railway Station, will be run by Brading Town Council and volunteers.
In 2011, the island's Conservative-run council said it would close its six centres to save £175,000 a year.
The new centre is part of a Visit Isle of Wight pilot scheme to open points within existing business premises.
Visit Isle of Wight, which is part-funded by the now independent-led council, has now helped set up information points in Shanklin, Ryde, Brighstone and Ventnor.
The Shanklin and Ryde centres are based in gift shops, while the Brighstone facility has been opened in a cafe.
The fourth opened in a post office in Ventnor a week ago.
'Increase spending'
Brading mayor Deborah Gardiner officially opened the facility, which also includes a cafe and heritage centre.
Tourism councillor Shirley Smart said: "It is hoped that this additional information service will encourage people to stay longer and explore more of our beautiful island, leading to an increase in spending in our towns and villages."
Five further centres are planned in Yarmouth, Godshill, Sandown, Newport and West Wight.
Since the closure of the council-run centres, privately operated information points have continued to run in Newport, Ryde, Yarmouth and Ventnor.
Visit Isle of Wight is gets £340,000 a year from Isle of Wight Council, as well as contributions from private companies.
Tourism accounts for about a third of the island's economy but 2012 summer visitor numbers were 11% down on 2010.