Memorial plan for Shanklin 'bus stop cat'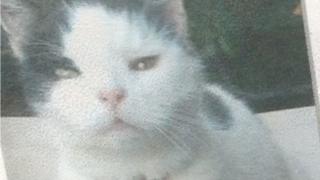 A group of residents from the Isle of Wight have begun a campaign for a permanent memorial to a well known cat.
Smudge spent much of his life at the bus stop outside his home in Shanklin and became a favourite with commuters, schoolchildren and passers by.
After he died last week at the age of 22, his owner Ronni Hickson put a poster on the bus shelter informing people of his death.
Southern Vectis bus company said it hoped to re-name the stop after Smudge.
The cat lived in the Columbus House retirement housing development in Shanklin, near the stop on the Ventnor to Ryde bus route.
'Such a character'
Ms Hickson said Smudge became known as the "bus stop cat".
"He just had a love of people. He'll be greatly missed - he was such a character.
"He would sit at the bus stop and escort people on and off the bus,
"People stroked him and talked to him and he'd talk back. He was a very polite cat."
Smudge's ashes have already been scattered at the bus stop and Columbus House residents have begun a collection to erect a plaque in his memory.
A Southern Vectis spokesman said the company would work with residents to rename the stop as "the Smudge Stop" on its timetables as a "lasting memorial".