Winchester homes evacuated during house fire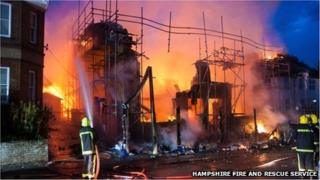 Ten homes had to be evacuated while firefighters tackled a blaze in Winchester that destroyed a house under construction.
Nobody was hurt in the fire, which broke out in Hatherley Road at about 04:30 BST. The cause is not yet known.
Neighbouring properties were evacuated after the front of the two-storey building partially collapsed.
Crews managed to contain the fire and stop it from spreading to other properties.
About 40 firefighters were at the scene and it took them three hours to bring the fire under control and put it out.