Woman died by 'spilling tea on herself', carer claims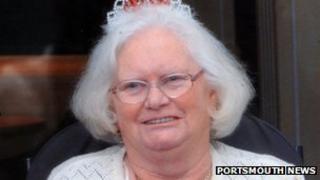 A woman who died days after being scalded by tea spilt it on herself, a carer has said.
Margaret Young, 73, was injured on 13 June 2013 while living at Beechcroft Manor Nursing Home in Gosport.
She developed a sore and died in hospital in Portsmouth on 20 June.
An inquest heard she told a GP that a nurse had spilt tea on her. But, in an accident form at the time, care assistant Bestman Owhondah said she had admitted responsibility.
A barrister representing the home called his explanations "confused and defensive".
Mrs Young, a retired nurse, had been at the home for about a year, having been transferred from hospital after a fall at home.
She was diagnosed with a urinary tract infection in the three weeks leading up to the incident and a chest infection the day before, for which she was receiving antibiotics.
'Needlessly complicated'
Mr Owhondah, who was employed through an agency, said he noticed a large red mark on Mrs Young the size of his hand.
He said he had returned to her room with another member of staff to prepare her for bed after earlier bringing a cup of tea.
He changed her sheets because they were wet, but as Mrs Young made no complaint, he did not think anything of it, he explained.
The next day he was asked to fill in an accident form once the wound was discovered.
A GP was called in and advised she increase her antibiotics. Mrs Young told the GP that the carer had spilled tea on her.
In his report Mr Owhondah said Mrs Young had complained she had spilt tea on herself because the cup was not in the right place on her table.
"I thought she must have been confused or feeling unwell," he wrote.
The report did not mention the red mark or the changing of sheets, the inquest in Portsmouth heard.
Lincoln Brooks, barrister for the nursing home, said the red mark was not caused by a spillage, and described Mr Owhondah's statement as "needlessly complicated and needlessly incorrect".
The hearing continues.