River Hamble yacht club development gets go-ahead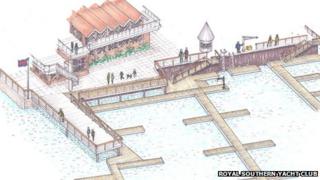 A proposed development on a Hampshire river to accommodate 72 yachts has been given the go-ahead.
The Royal Southern and RAF yacht clubs' planned Prince Philip Yacht Haven includes improved disabled access and a new quay wall on the River Hamble.
Concerns had been raised over the environmental impact of dredging work.
Planning permission was granted, subject to conditions, by Eastleigh Borough Council and the River Hamble Management Committee and Harbour Board.
The plans for the new yacht haven include new walk-ashore pontoons and the river's first hoist to allow disabled sailors to get on and off boats.
Members of the parish council were among those who raised objections during the planning process about the development's impact on nature conservation and the "virtual privatisation of the river frontage".
Work is set to be completed by summer 2014.