Woman died after tea spill caused sore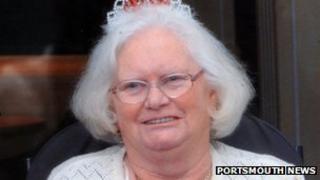 A woman who died days after being scalded by spilled tea was admitted to hospital with a "horrendous" sore, an inquest has heard.
Margaret Young, 73, lived at Beechcroft Manor Nursing Home in Gosport when the incident happened on 13 June 2012.
Her daughter, Janet Young, told the inquest in Portsmouth she discovered the undressed wound in a "green-black mess" when she visited four days later.
The home said Mrs Young, a retired nurse, received "the best treatment".
The inquest heard Mrs Young was in the final stages of life when a cup of tea was accidentally spilled onto her.
'Shocked by stench'
Ms Young said when she visited her mother on 17 June she found her "moaning and groaning like nothing on Earth" and her gown was "stuck to the side in this big green-black mess".
She said: "I went downstairs to ask what was going on - I just asked why it didn't have a dress on.
"I was told to accept it was part of her dying, which I was upset about. It was just horrendous."
Ms Young said, after her mother was admitted to Queen Alexandra Hospital in Portsmouth, "the doctors were quite shocked by the stench and the wound sore".
Mrs Young's husband, Peter, 83, said staff had told him of the tea incident.
He told the hearing: "They tended to pass it off as really a non-event. They were playing it down."
Lincoln Brookes, representing Beechcroft Manor, told the inquest that Mrs Young had been seen by a doctor on the day of the accident and again on three of the four subsequent days.
He said, although not all staff were aware of the spillage, the doctor provided appropriate treatment.
Addressing Ms Young, he said: "Your mum was receiving the best treatment and her last days were as comfortable as possible."
Mrs Young died in hospital on 20 June.
The hearing continues.