Isle of Wight fire rescue neighbours receive award for bravery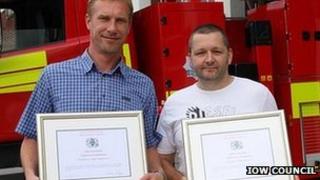 Two men who saved their elderly neighbour from her burning home on the Isle of Wight have been awarded chief fire officer commendations for bravery.
Stephen Eggleton and Phillip Pearce pulled 85-year-old Mary Nerval from her home in Victoria Road, Newport, amid thick smoke and flames in October.
Mr Pearce said: "We don't think we deserve it, it was just a reaction we both had".
Hampshire police said they were "impressed" by the men's "courage".
Isle of Wight Fire and Rescue Service said partially blind Mrs Nerval was "helpless, injured and stranded on her floor overcome by thick smoke".
Mrs Nerval passed away two weeks later due to the injuries she sustained, but Mr Pearce said it was "very important" her family had a chance to say goodbye.