Southampton 'legal high' drugs teen Adam Hunt remembered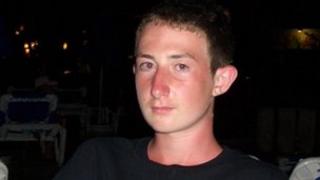 A teenager who died on Sunday after taking "legal highs" has been described as a "much-loved son" and Southampton FC fan.
It is believed Adam Hunt, 18, fell ill at his home in Southampton on Wednesday after taking alpha-methyltryptamin (AMT) and etizolam.
He died on Sunday at Southampton General Hospital. The exact cause of his death is not known.
Parents Bernadette and Darren Hunt said they were "in shock".
The couple said their son "loved football" and was a Saints season ticket holder.
'Thoughtful and caring'
He passed 11 GCSEs at school and had been studying electrical engineering at college, following in his father's footsteps.
In a statement they said: "He was very thoughtful and caring and loved his family and friends dearly.
"His life had such potential and was all in front of him, sadly it has been cut prematurely very short."
Police said it was the third "extremely serious" case involving AMT in Hampshire since last year.