Boomtown festival noise breached licence conditions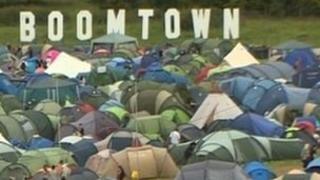 Noise from a Hampshire music festival that prompted complaints from residents breached licence conditions, a council investigation has found.
The four-day Boomtown festival at Matterley Bowl, near Winchester, Hampshire was held from 8-11 August.
Winchester City Council monitored noise levels throughout the event.
Levels at nearby properties exceeded limits and the time when entertainment should stop was not adhered to, it said.
Organisers said they had "invested significant amounts in sound proofing" and "monitored noise at regular intervals".
They added: "The festival received a very small amount of noise complaints this year, eight in total, a 90% reduction from the 2012 event [when there were 70 complaints]."
"Months of careful preparation and planning go into Boomtown Fair and adhering to the licence terms and conditions are of the utmost priority."
The council confirmed it had received eight complaints about noise and had analysed data from monitoring equipment.
'Vigilant' checks
It said it would talk to the organisers' licence-holder and assess all the evidence before deciding whether to take legal action.
Deputy leader Rob Humby said: "These alleged breaches must be a disappointment to the event organisers, but demonstrate that the city council is vigilant in checking compliance with licence conditions.
"We must now let the due legal process continue and await the outcome.
"I also hope that lessons can be learned from this year's experience so that these problems can be avoided in the future."
Hampshire Police said about £120,000 worth of drugs were seized at the event and 11 arrests were made on suspicion of possession with intent to supply drugs.
Organisers said they had worked with police to combat the amount of illegal drugs on site.
Eleanor Rowe, 18, from Glastonbury, Somerset died after falling ill at the event but a post-mortem examination proved inconclusive.
Two people, a man, 23, and woman, 19, both from Somerset, were later arrested on suspicion of supplying a class C drug.
Artists such as Arrested Development, The Selecter, Lee Scratch Perry and LTJ Bukem played at the event, which was celebrating its fifth year.