Alert over brothers missing off Isle of Wight possible 'hoax'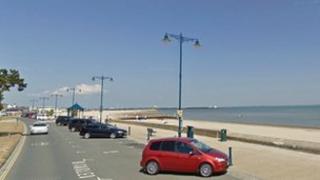 A major search operation for two brothers off the coast of the Isle of Wight was sparked by either a hoax or false report, the coastguard has said.
The boys, aged six and eight, were reported missing by their parents from Ryde beach near Appley Tower.
They were said to have last been seen on the seafront at about 12:00 BST.
About 50 people including police, the Solent Coastguard helicopter and the public were involved in the search, which was called off at 16:15 BST.
Coastguards were unable to contact the parents during the three-hour search and said the address they gave "didn't check out".
A Maritime and Coastguard Agency spokesman said: "It is an area we can search very well with clear visibility.
"We are confident there is no child out there in difficulty. Either it was a hoax or a false report.
"The parents left the scene after making the report. Did they find the children and then leave without telling anyone?"
The Maritime and Coastguard Agency posted on social networking website Twitter shortly before 16:30 BST: "We've searched the sea and shore and we now don't think there are 2 kids in danger.
"Search stood down. Thanks to everyone for their help."
Open mind
It is understood that the parents had not been in contact with the emergency services since about 13:00.
Hampshire Constabulary said an address given for the family on the Isle of Wight was found to be incorrect.
A spokesman said: "The force is keeping an open mind about the circumstances of this report.
"There is no evidence at this time to confirm a criminal offence has been committed deliberately.
"There could be a completely innocent explanation for what happened. Nothing can be ruled out as we assess all the information available.
"We are renewing an appeal for the parents or any relatives of these two boys to contact the police."