Southampton teenager dies after taking 'legal high' AMT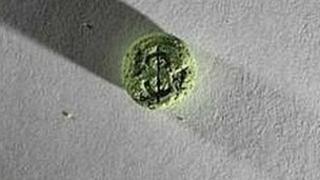 A teenager has died after taking a "legal high" he bought on the internet.
The 18-year-old, from Southampton, died in hospital on Sunday, four days after his mother phoned an ambulance after finding him ill in his bedroom.
The man, who has not yet been named, said he had taken alpha-methyltryptamine (AMT) which had been ordered from the Netherlands.
A post-mortem examination is to be carried out to establish the exact cause of his death.
'Tragic death'
Supt Ben Snuggs said: "Initial enquiries established that the teenager appeared to have taken the psychoactive substances AMT and etizolam, so this will naturally form part of our enquiries.
"His mother contacted the emergency services after finding him ill in his bedroom.
"This tragic death shows how important it is that people realise the dangers associated with taking 'legal highs'.
"They are not necessarily safe and sometimes have been shown to contain potentially lethal substances."
Police said it was the third "extremely serious" case involving AMT in Hampshire since last year.
Last month a 23-year-old man from Swindon died in hospital after taking a small green pill with a dollar sign on it which was later confirmed as AMT.