Campaign to fight care home closures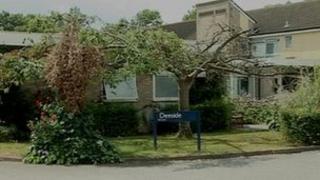 Relatives of elderly residents at four care homes in Hampshire are joining forces with union bosses to challenge council plans to shut the homes.
Unison and Unite unions said Hampshire County Council could use its reserves to update the homes in Basingstoke, Lyndhurst, Romsey and Petersfield.
The council said the homes were no longer fit for purpose and would cost more than £10m to modernise.
A public consultation on the closures is under way until the end of October.
'Little signs'
Bulmer House in Petersfield, Cranleigh Paddock in Lyndhurst, Deeside in Basingstoke and Nightingale Lodge in Romsey could close making 190 staff members redundant, unions fear.
The 121 residents would be placed in other care homes or offered care in their own homes, the council said.
Sheila Shields, whose mother at Cranleigh Paddock suffers from severe dementia, said the staff were all dementia trained and "know the little signs to look for".
She added: "My mother can't ask to go to the toilet, it has to be noticed that she's fidgeting and wants to go."
Richard Bambridge from Unite said he had been petitioning members of the public who were "universally against the closure of these homes".
Tim Cutter from Unison said: "This is the council trying to distance itself from providing care and basically privatising it".
He added the council had "no excuse" not to use its £400m reserve money.
The council said the homes had become unsuitable because of "narrow corridors, insufficient space for care equipment and shared toilet facilities".
It added the three month consultation would discuss alternative means of care and accommodation.