Southampton teenager ill after taking 'legal high' AMT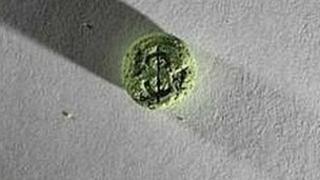 A teenager is being treated in intensive care after taking a "legal high" he bought on the internet.
The boy's mother phoned an ambulance after finding him ill in his bedroom on Wednesday.
The 17-year-old, from Southampton, said he had taken alpha-methyltryptamine (AMT) which had been ordered from The Netherlands.
He was rushed to hospital where he is described as being in a life-threatening condition.
Det Con Jonathan Hyland, from Hampshire police, said: "The clear issue is that people who state they have a strong view about not taking controlled drugs are importing and purchasing drugs which they read online are a substitute for controlled drugs.
"People incorrectly believe that these 'legal highs' are then both safe and appropriate alternatives to street drugs."
Police said it was the third "exceptionally serious case" involving AMT in Hampshire since 2012.
Last month, a 23-year-old man from Swindon died in hospital after taking a small green pill with a dollar sign on it which was later confirmed as AMT.