'Naked rambler' Stephen Gough arrested outside prison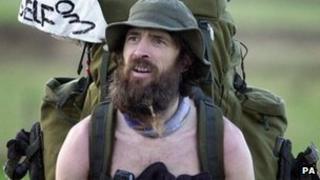 The man known as the "naked rambler" was re-arrested as he left prison.
Stephen Gough, 54, from Hampshire, refused clothing from police and was held as he left Winchester prison.
He had been jailed for 11 months in June for breaching an anti-social behaviour order banning him from appearing naked in public.
The Ministry of Justice said it did not comment on release dates in individual cases, but it is understood he had served most of the jail term on remand.
The naked activist was jailed on 19 June for breaking the terms of his interim Asbo, which stated he must cover his buttocks and genitalia.
He has now been held on suspicion of breaching a new order, with the same conditions, which was granted by magistrates on Tuesday.
Gough, a former marine of Chamberlayne Road, Eastleigh, has been sentenced to more than six years in prison for his belief it is his human right to be naked in public.
He gained notoriety between 2003 and 2006 when he twice walked naked from Land's End to John O'Groats and was the subject of a TV documentary.