Noise complaints about Boomtown festival investigated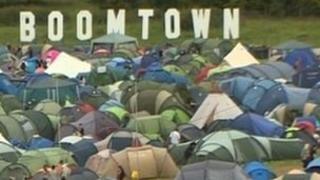 A music festival is being investigated for potential breaches of its licence conditions after noise complaints.
The four-day Boomtown festival at Matterley Bowl, near Winchester, Hampshire was held on 8-11 August.
Winchester City Council said there were "concerns that the noise levels at nearby properties on occasion exceeded the limits stipulated".
Organisers said they had "invested a huge amount into sound controls" and the number of complaints was down.
The council said it received eight complaints about noise and was in the process of analysing data from monitoring equipment to confirm initial findings.
Deputy leader Rob Humby said: "Overall we are pleased that the Boomtown Festival was well managed and delighted it was enjoyed by so many.
"However, if there has been a breach of the licence conditions it must be dealt with to ensure the interests of our local communities are protected."
In a statement, festival organisers said the numbers of complaints was down from 70 last year.
"We will look further into those eight complaints to see where we can build upon the measures already taken," it said.
Hampshire Police said approximately £120,000 worth of drugs were seized at the event and 11 arrests were made on suspicion of possession with intent to supply drugs.
Organisers said they had worked with police to combat the amount of illegal drugs onsite.
"BoomTown Fair is pleased that after running a targeted pre-event anti-drugs campaign, along with the dedicated police work and security searches, there were fewer drug arrests onsite than last year," they said.
On Thursday, an 18-year-old woman died after the falling ill at the event. Police said her death was not being treated as suspicious.
Artists such as Arrested Development, The Selecter, Lee Scratch Perry and LTJ Bukem played at the event, which was celebrating its fifth year.