Anna Wardley's Isle of Tiree endurance swim abandoned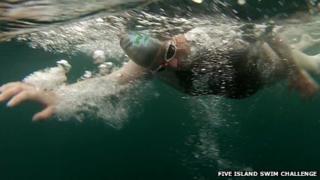 A Hampshire woman has abandoned her attempt to swim solo around the Isle of Tiree in the Inner Hebrides.
Anna Wardley, 37, from Gosport, set off on the 30-mile (48km) route, at 05:19 BST Tuesday.
She abandoned her attempt after 16 hours and nine minutes, having completed 22 miles.
It was part of a five-island challenge, which followed completed swims around the island of Dragonera, off Mallorca, Portsea and Jersey, last year.
Speaking earlier, she said she was "absolutely fine" having warmed up and rested.
She added that she was considering swimming the final eight miles if weather conditions permitted while she was on the Scottish island.
Ms Wardley is due to finish her charity challenge by swimming around the Isle of Wight in September.
'Dangerously cold'
She said she still intended to attempt that swim, insisting the Solent will seem "like a hot bath" in comparison with the waters around Tiree.
Ms Wardley, who was believed to be the first person to attempt to swim solo around Tiree, said: "It was a tough, tough day - I knew there was going to be a lot of challenges, but I've given it my best shot."
Her support team called off the swim after she began hallucinating from the effects of the cold water and her chattering teeth prevented her from being able to breathe properly.
"I knew the cold was going to be a huge factor and it was becoming dangerously cold," she said.
Ms Wardley began her five-island challenge on 27 May last year when she swam six miles (10km) around the uninhabited island of Dragonera, off the south-west coast of Mallorca.
This was followed by a 13-mile (21km) route around Portsea Island, on which the city of Portsmouth is built, and a 41-mile swim (66km) around Jersey.
Money raised during the five-island challenge will go to the Samaritans, Ellen MacArthur Cancer Trust and Sail Africa, which offers sailing courses for young people in South Africa.