Hayling Island Cycle Ride Charity fraud treasurer sentenced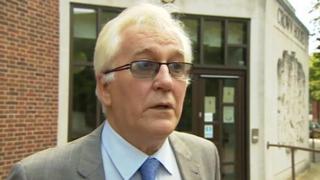 A man who admitted stealing more than £30,000 from a Hampshire charity has been given a two-year sentence, suspended for two years.
Paul Fisher, 66, was the treasurer of the Hayling Island Cycle Ride Charity when he committed the fraud by using the charity's credit card.
Speaking after his sentencing at Portsmouth Crown Court, Fisher told the BBC he took the money to pay off debts.
He said he is currently selling his home to pay back the charity.
Fisher added that he regretted what he had done and had now declared himself bankrupt.
'Sad affair'
He said: "The reason I took the money was because my business failed and I had no income. It was simply to maintain my living and paying the mortgage and household expenses.
"I'd hoped to, at all points I'd planned to, repay the money. It just became a routine and it escalated.
"I obviously regret it immensely."
Peter McQuade, spokesman for Hayling Island Cycle Ride Charity, said: "This affair has obviously been very sad for both the ride and for Paul personally, even more so since Paul has in the past done so much to make it a success.
"Steps have been taken to ensure that this type of incident never reoccurs, but the ride will continue.
"It's important to remember the good things about this fabulous event - over £1.3m has been raised for more than 500 charities.
"Riders of from all backgrounds, of all ages and from 14 different countries have taken part, often finding it a life-changing experience."