Extra boat to meet Portsmouth park-and-sail demand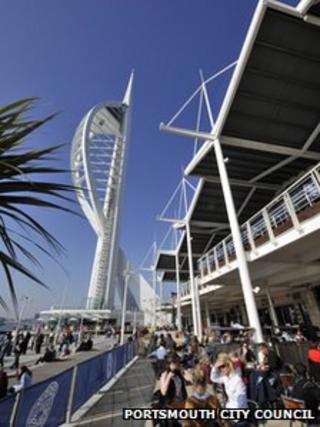 A new park-and-sail service taking shoppers to Portsmouth Harbour is to get an extra boat to meet demand.
The service, run by Portsmouth City Council, Portsmouth International Port and Gunwharf Quays, attracted more than 1,400 passengers in total in its first two weekends.
The council said the 70-seat boat would sail alongside the existing 100-seater, allowing more room for passengers.
The park-and-sail initiative is aimed at reducing congestion in the city.
In June, the council apologised after roadworks on the M275 caused gridlock and forced some drivers to abandon their cars.
Visitors to Portsmouth Harbour can park at a multi-storey car park off the M275 at Portsmouth International Port where a shuttle bus takes them to a waiting boat.
The 25-minute boat trip passes the Royal Navy ships before arriving underneath the Spinnaker Tower.
The service, costing £5 per vehicle, began on 27 July and ends on 26 August.
The scheme is part of the My Journey Portsmouth scheme, aimed at getting people to use their cars less.