Portsmouth v Accrington Stanley: Ex-Pompey mascot relives 1959 clash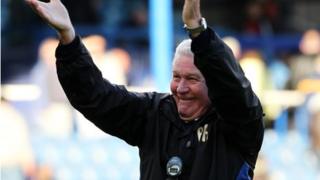 Portsmouth FC will go head to head against Accrington Stanley on Saturday - 54 years after the two sides last met.
It is a match-up no-one would have predicted five years ago when Pompey lifted the FA Cup and were entertaining the likes of AC Milan at Fratton Park.
But the club's well documented fall from grace has seen them plummet into League Two where they will face the Lancashire team this weekend.
One man who experienced the FA Cup fourth-round replay on 28 January 1959 is Pompey kit man Barry Harris.
Now 69, Mr Harris was Portsmouth's 15-year-old sailor-suited boy mascot when the teams last met.
He travelled north to Accrington Stanley for the first FA Cup match between the two teams, on a steam train put on especially for the game that cost 37 shillings - about £1.80.
Dressing room banter
"I was at the merchant navy training school at the time," said Mr Harris, whose Pompey football heroes at the time were Norman Uprichard and Jimmy Dickinson.
"I went up by the train from Portsmouth Harbour station at 11:30 at night and arrived at Accrington at 7.30 in the morning in the snow.
"It cleared up in the morning and turned into quite a nice day."
He added: "About 300 Pompey fans made the journey up, to get a bit of atmosphere."
He estimated the crowd was about 12,000-strong.
"It was a hell of a good game," he said.
Despite "a few incidents in goal", Pompey drew 0-0 with the Lancashire side and then beat them 4-1 in the replay the following Wednesday at their home ground, Fratton Park.
Southsea resident Mr Harris, who became Pompey's mascot at the age of eight in 1952, was later known for leading the singing at away matches before handing over the mascot role to someone else in 1972 - the year he got married.
Of his mascot days he said: "I did enjoy it very much.
"Sometimes I was fortunate enough to go in the dressing rooms before the game.
"We had a kit man at Portsmouth at the time called Jimmy Stewart and when I was in the dressing room he used to look at me and say 'whatever you hear in the dressing room, son, don't repeat it to your parents'."
Mr Harris remains an avid fan and volunteer kit man for the team.
And the family connection with Pompey continues with his grandson Charlie playing for the team's under-nines and 10s.
Pompey play Accrington Stanley away on Saturday.