Cow gives birth minutes after slurry pit rescue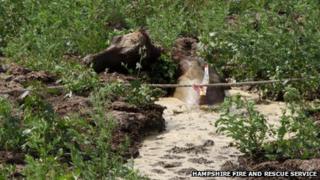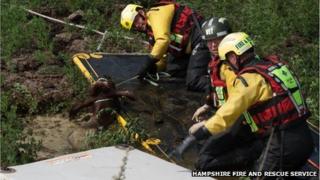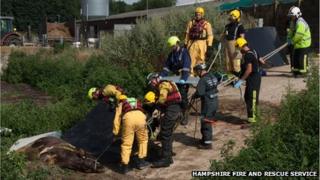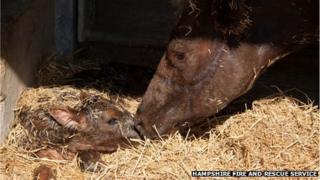 A cow was rescued from a slurry pit in Hampshire by firefighters minutes before its calf was born.
The Swedish red cross holstein was being moved to a calving pen when it jumped a fence and fell into the 2m deep pit in Crawley on Wednesday.
When firefighters arrived at the scene the heifer was almost completely submerged.
A vet sedated the three-year-old animal before firefighters pulled it to safety using specialist rescue equipment.
'Extraordinary rescue'
But by the time the cow was back on dry land it was already in the middle of giving birth.
A Hampshire Fire and Rescue Service spokesman said: "Calving while fully submerged in a slurry pit, the odds of the calf being delivered alive were slim.
"As soon as the calf was delivered the farmer and vet set to work to get it to breathe and after some effort and what seemed like forever, it finally took its first breath.
"After one of the most challenging deliveries involving a slurry pit, mother and baby are fit and well and were standing up and feeding only 20 minutes after the birth."
Animal rescue specialist Anton Phillips said: "We all worked incredibly hard to save the animals but even with our efforts this was an extraordinary rescue."