Eastney beach huts 'would block sea view'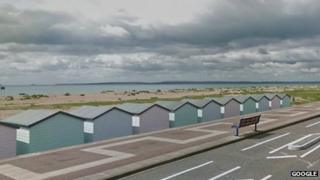 Beach huts planned for Portsmouth will block sea views and damage the shingle environment, residents have claimed.
The city council has proposed more than 100 new huts for Eastney beach.
Residents say the 13 ft (4m) high huts would block views from the esplanade and damage shingle beach vegetation.
The council insists they would be below the level of the promenade and the environmental impact would be monitored.
The scheme involves replacing 18 huts currently on the northern edge of Eastney Beach.
The council said the huts would take up 350m (380 yards) of the city's four miles (6.5km) of seafront.
East Southsea Neighbourhood Forum's Leon Reis said their height would mean homeowners and people using the promenade would lose their sea views.
"Anyone on a bike, in a wheelchair or children will not see the seafront apart from snatched glimpses through the huts, where now you have a fantastic vista over to the Isle of Wight."
Laurie Higgins, chair of Friends of Cumberland House natural history museum said: "This beach has huge diversity of vegetation which is very rare and it's very fragile - children playing will inadvertently squash it and once it's gone, it's gone.
"Thousands of years in the making and it could be destroyed in a couple of years after a stupid decision."
Seafront manager David Evans said: "There is a waiting list of four to five years for [beach huts for] people who don't have the luxury of living beside the sea.
"We're not planning to block off the sea."
He said environmental surveys had been done and any money generated from renting huts would be "spent on the seafront".
Public consultation on the proposals continues until the end of August before they go before the council planning committee.