Stanbridge Earls School urges parent for support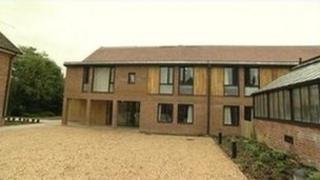 A school criticised for its handling of a pupil's rape claim has urged parents to support it, in a bid to avoid closure.
A proposed takeover of Stanbridge Earls School, near Romsey, Hampshire, recently fell through amid concerns over pupil numbers next term.
The board of trustees has given parents until Friday to decide if they will enrol their children for September.
They are also being asked to pay fees by 15 August.
On Friday, More House School in Farnham, Surrey, said it would not takeover Stanbridge Earls, which had 189 registered students in June.
'Very optimistic'
Head teacher, Maggie McMurray, said numbers at the £40,000-a-year school, which caters for children with special educational needs, will be lower next term but would not say how many were needed to keep it going.
Ms McMurray was "very optimistic" it would open for the new term, based on the support she has already seen from parents.
"In just 24 hours we have had a large number of emails confirming children will start in September," she said.
If too few children are enrolled, the school has said it will be forced to close and fees will be refunded.
In a letter to parents, Jenny Ringo, acting chair of the board of trustees, said: "If we do not secure a suitable partner or income stream, then the focus of the term will switch to finding places for the children at other schools which can best accommodate their needs."
Tribunal findings
Stanbridge Earls is under scrutiny from the Department for Education, which gave it until the end of the month to present an "action plan" after recent findings by Ofsted.
Last year Ofsted said the school was "outstanding", but a review of the inspections has found they failed to get "underneath concerns".
A tribunal in January found the school, which caters for pupils aged 10 to 19, had failed to protect a "vulnerable" pupil.
Her parents started legal action on discrimination grounds after she was excluded, following her claim she had been raped twice by fellow students.
The tribunal heard the school believed she had consented and excluded her for breaking rules by having sex on its grounds.
Three Ofsted inspections since the tribunal's findings revealed serious concerns about safeguarding.
Hampshire Constabulary said it thoroughly investigated the rape allegation but the Crown Prosecution Service decided not to prosecute.
The force has since started a "comprehensive review" into its handling of the case and is investigating sexual abuse claims by another girl.