Hampshire policewoman Rebecca Swanston jailed for corruption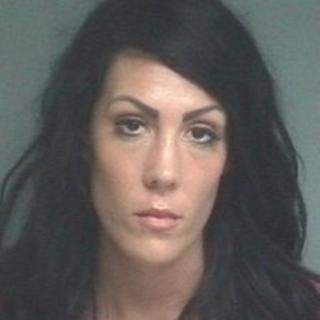 A policewoman with the Hampshire force who disclosed intelligence to criminals has been jailed for three years.
Rebecca Swanston, 28, pleaded guilty at Winchester Crown Court to three counts of misconduct in a public office between January and October 2012.
Swanston, who served as a PC until November, was secretly recorded in her home having incriminating conversations with criminal associates.
She accessed information from police systems while working in Southampton.
Swanston, of Lomond Close, Portsmouth, was involved in intimate relationships with suspected and known criminals in Southampton, including drug dealers.
The court heard she told suspected criminals they were wanted and advised them about police tactics, enabling them to avoid detection.
'Self-destructive'
Swanston had accessed intelligence from police information systems while based at Southampton Central police station.
The court was told two men confessed their roles in crimes to her, including a machete attack, but she did not pass on the information.
It also heard that after Swanston's activities came to light, a case against two suspected drug dealers, who she did not know, was dropped as her evidence formed a key part of the prosecution.
One of the suspects later went on to supply drugs to a person who died after taking them.
Swanston was dismissed from Hampshire Police in November after admitting gross misconduct.
Passing sentence, Judge Jane Miller QC called Swanston's behaviour "self-destructive".
"I suspect you behaved in this way because you wanted to. You were clearly empowered by the information you had and could disclose to these men.
"It is a very unattractive feature of this case.
"These offences were a gross breach of trust in every sense," she added
Speaking after the hearing, Det Supt Colin Smith, of Hampshire Constabulary's Professional Standards Department, said Swanston's actions "went totally and utterly against values of honesty and integrity required of her as a police officer".