Bid to examine 'King Alfred the Great' remains in Winchester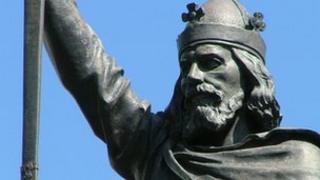 A single bid has been submitted to analyse remains from an unmarked grave to see if they belong to King Alfred the Great, the BBC can reveal.
The remains at St Bartholomew's Church, Winchester, were exhumed amid security fears after publicity surrounding the discovery of Richard III's skeleton.
The local Hyde900 group has submitted the only application to perform tests.
The chancellor of the Diocese of Winchester will decide whether to grant permission within the next two weeks.
Diocese registrar Andrew Johnson said a number of organisations have been consulted for their views, including the Church Buildings Council and St Bartholomew's Church, which told BBC News it had no objections.
DNA testing
The Hyde900 community group was set up to celebrate the 900th anniversary in 2010 of the foundation of Hyde Abbey, the burial place of King Alfred.
Rosemary Burns, executive committee member, said the group was working with a number of experts who were "ready to go" but could not reveal more details because of a confidentiality agreement.
She added: "We could take invasive samples for carbon dating, after that isotope and oxygen analysis.
"This could show where the person was born and brought up, what they ate. It could be one part of the way in leading us to conclusive proof."
Ms Burns said DNA testing, which was used to identify Richard III's remains found underneath a Leicester car park, could be an option but finding a descendant of Alfred could prove trickier as he died almost 600 years earlier.
His remains are known to have been moved several times since he was buried in the Winchester's old minster in 899 AD.
They were moved in 904 to a new church to be alongside his wife and children, before being moved again to Hyde Abbey in 1110.
The abbey was destroyed during the dissolution of the monasteries in 1539 and studies indicate the tomb was robbed.
It is believed some bones were put on display in the 19th Century before being buried at St Bartholomew Church.