Stanbridge Earls School: Ofsted admits inspection failings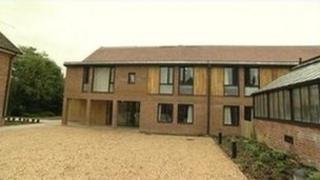 Schools watchdog Ofsted has admitted failings in its inspections at a Hampshire school criticised for its handling of a pupil's rape claim.
A tribunal in January raised "grave concerns" about safeguarding at the independent Stanbridge Earls School.
Last year Ofsted said the school was "outstanding", but a review of the inspections has found they failed to get "underneath concerns".
The chief inspector of schools, Sir Michael Wilshaw, has apologised.
Disciplinary action has been taken against a small number of staff, including dismissal.
The tribunal found the school, which caters for pupils aged 10 to 19 with special educational needs and charges up to £40,000-a-year, had failed to protect the "vulnerable" pupil.
Her parents started legal action on discrimination grounds after she was excluded following her claim she had been raped twice by other students.
The tribunal heard the school believed she had consented and excluded her for breaking rules by having sex on school grounds.
Three Ofsted inspections since the tribunal's damning findings revealed serious concerns about safeguarding at the school.
The school is set to close, with a Surrey-based charity expected to take it over and run a new school on the Romsey site.
Addressing why the initial Ofsted assessment was so wrong, Sir Michael said: "Inspection is part of the safety net designed to protect children from harm and it is clear from our review... that our inspections should have got underneath what was happening sooner.
"We offer our sincerest apologies to the parents and children who have been affected by historic events at Stanbridge Earls.
"We cannot turn back the clock on what has happened. But our actions show that when we get it wrong we acknowledge our mistakes, take decisive action and ensure that we use the learning to improve."
The inquiry did not find "widespread failings" but did reveal "weaknesses" in Ofsted's monitoring of residential special schools.
The watchdog said from 1 January all inspection work would be managed in eight regions, overseen by regional directors.
It has also improved existing technology to ensure inspectors have better access to the full history of concerns at a school.
In a statement released through their legal team, the girl's parents said their daughter had gone through a "horrendous trauma" which could have been stopped sooner if staff had acted.
'Acting illegally'
They hoped the findings would lead to a change in the law making it mandatory for professionals working with children to report allegations or suspicions of abuse.
They added: "That would mean that if you don't report abuse that you know could be or is happening you would know you were acting illegally and could be prosecuted for breaking the law."
The Department for Education said it welcomed the review and is considering its implications, although it had no plans to change the law.
A spokesperson said: "All schools have a legal obligation to protect children in their care.
"We have issued specific guidance to teachers to make clear their responsibility to raise any concerns with the local authority and sharpened the guidance on child protection to make clear what is expected of schools, local authorities and agencies when they work together."
The head teacher at Stanbridge Earls at the time of the allegation, Peter Trythall, stepped down in April after initially resisting calls to quit.
The tribunal said his conduct "borders on contempt for statutory duties".
Hampshire Constabulary said it thoroughly investigated the rape allegation before passing a file to Crown Prosecution Service, which decided not to prosecute.
The force has since started a "comprehensive review" into its own handling of the case and is also trying to progress a separate investigation into sexual abuse claims by another girl.