Last shift at Ford's Transit van factory in Swaythling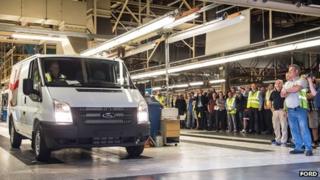 Staff at Ford's Transit van factory in Southampton have finished their final shifts as it prepares to close its doors later.
More than 500 workers were based at the Swaythling plant, which has produced two million Transits over 40 years.
Production is moving to Turkey, where costs are "significantly lower" than in western Europe, according to Ford.
Ford says its former factory workers have all taken redeployment, voluntary redundancy or early retirement.
A new £12m vehicle distribution centre is being created at Southampton docks, while a vehicle refurbishment plant at the existing site will provide positions for 134 staff.
A further 750 jobs have been affected by the closure of the tool and stamping operation in Dagenham. They have also either accepted redundancy, early retirement or been redeployed within the company.
'Ghost town'
Unions had called the closures a "betrayal" when they were announced last year.
One worker said the backbone of Britain" had gone with the closure of the plant.
Mark Radcliffe, who has worked at the factory for nine years, will continue to work for Ford at its new site in Bridgend, despite being "Southampton born and bred".
He said: "It's a quite eerie feeling, it's all very quiet. It's like a ghost town in there now.
"It's the end of an era, but the future is bright for some and Ford will continue and I'm looking forward to the future with Ford Motor Company."
Alan Merritt, who is taking redundancy, said he believed the plant had been "earmarked for closure" for 15 years.
"I'm out of a job. They say it's voluntary redundancy but I don't see it being voluntary."
However, Rick Ranson, who is moving to the engine plant in Bridgend, South Wales, after 25 years at the Southampton Transit factory, said he believed his colleagues taking redundancy "would be fine".
"It's quite sad really, people have been coming here day in, day out for 25 years, some of them 30 years.
"But, they're a good bunch of guys and I'm not worried for them at all."