David Guy dismemberment: David Hilder guilty of manslaughter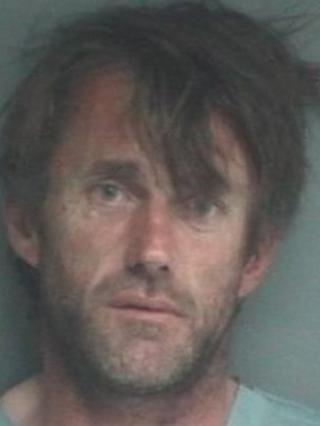 A man who killed and dismembered his friend has received a life sentence for his manslaughter.
David Guy's torso, legs and pelvis were found in two places on Southsea beach in Hampshire in July 2012. The rest of his body has not been recovered.
David Hilder, 47, of Richmond Road, Southsea, was cleared of murder but convicted of manslaughter at Winchester Crown Court.
Jurors heard Hilder disposed of the body parts using his bicycle.
Justice David Bean said Hilder would serve a minimum of 12 years in prison.
"We may never know the exact circumstances of his death," he said.
"It seems most likely the two of you quarrelled, you had a sudden loss of self control and stabbed him through the chest with a sharp blade causing him to die almost instantly.
"Afterwards you mutilated and cut up his body."
'Painstaking and deliberate'
Hilder lived in a flat near Mr Guy's camper van and jurors were told the pair were friends who had known each other for many years.
Hilder, also known as "Big Dave", would sometimes give Mr Guy, known as "Little Dave", food or let him bathe in his flat.
Nigel Lickley QC, prosecuting, told the court: "The precise relationship between the two men will never be known."
Mr Guy, 30, died sometime between between 30 June and 3 July last year.
The court heard Hilder killed Mr Guy and dismembered his body in a "painstaking and deliberate" way.
Hilder, a scrap metal dealer, then used his "distinctive" bicycle with a box on the front to transport the parts to other locations.
Cat hairs clue
Jurors were told Mr Guy's head, arms, some internal organs and genitalia were cut off and have never been found.
His torso was discovered by a group of students on Southsea beach, wrapped in bin liners and a curtain on which hairs from Hilder's cat were found on 3 July last year.
Fibres from the curtain were recovered from Hilder's flat, where traces of Mr Guy's blood were also found.
Jurors heard Hilder has a mild learning disability and a low IQ of 63 and had suffered from bouts of depression.
After the verdict, a statement from Mr Guy's father Michael was read to the court in which he said: "In time I will come to terms with my loss, but it is the cutting up of my son's body I cannot accept and never will.
"Somehow I will have to carry this pain in my soul for the rest of my life."
Stuart Ellacott, crown advocate for the Crown Prosecution Service, said: "The jury at Winchester Crown Court heard how Hilder had subjected Mr Guy to violence in the past.
"Hilder's violence may also have been triggered by the fact that his friend was not taking care of his cat.
"The precise nature of their relationship will remain unknown. Witnesses had described their friendship as "love hate" in which Hilder was providing food and washing facilities for Mr Guy but was in the meantime violent.
"The prosecution case stated that Hilder was in some respects dominant in this friendship, and would use violence to punish his younger friend, who remained dependent on him."
Det Supt Dick Pearson, of Hampshire Constabulary, said the DNA evidence, including of cat hairs found at relevant scenes, had played a major part of the investigation.
"This case continues to have a substantial impact on David Guy's family who remain resolute in trying to come to terms with what happened," he said.