Portsmouth park-and-sail service launched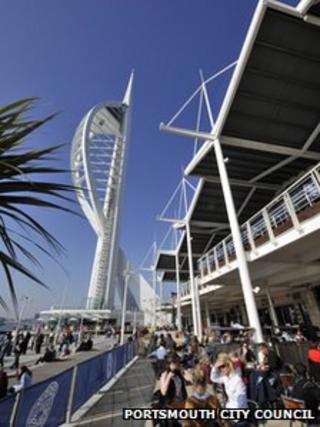 A new park-and-sail service is to launch in Portsmouth to allow shoppers to get to Portsmouth Harbour.
The initiative, run by Portsmouth City Council, Portsmouth International Port and Gunwharf Quays, is aimed at reducing congestion in the city.
Last month, the council apologised after roadworks on the M275 caused gridlock and forced some drivers to abandon their cars.
The service, costing £5 per vehicle, will run at weekends from 27 July.
Visitors will be able to park at a multi-storey car park off the M275 at Portsmouth International Port where a shuttle bus will take them to a waiting boat.
The 25-minute boat trip passes the Royal Navy ships before arriving underneath the Spinnaker Tower.
It will operate from 10:00 to 18:30 BST until 26 August.
Transport councillor Jason Fazackarley said: "As Portsmouth is an island and there are only three strategic routes to the mainland, congestion is a very real issue, especially at weekends.
"The aim of the park and sail service is to reduce congestion on the roads, attract more visitors to the area and improve connectivity between the motorway, port and Gunwharf Quays."