Portsmouth and Southampton culture city bid questioned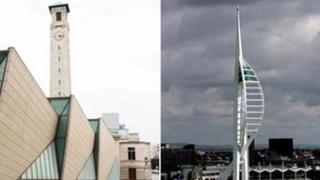 Organisers of the UK City of Culture in 2017 have questioned the logic of a joint Southampton-Portsmouth bid.
The official feedback said combined events would be well-resourced, but the "logic and added value" of a joint application was not clear.
The Solent cities failed to make the shortlist of four - Swansea Bay, Dundee, Hull and Leicester.
A statement from the bid team insisted "both cities have a wealth of culture and we were proud to showcase this".
The cities submitted a bid in May, fronted by DJ Rob da Bank, that focused on their maritime heritage, arts and music connections.
Speaking at a launch event, Mr da Bank, organiser of Bestival on the Isle of Wight, said their offering was "futuristic and forward-looking".
The bid said its programme of events was expected to deliver a 40% increase in annual visitor numbers.
'Further opportunities'
Eleven venues initially submitted applications. The organisers' feedback said the Solent bid had been "well supported" by both local authorities with some "strong ideas" based on international port connections.
However, it also said proposed events "lacked distinctiveness" and there was a slight risk of two councils leading to complexities in delivering events - because there was little track record of the two cities working together in the cultural field.
In a statement, the two councils said: "We felt it was important to go for the City of Culture title as both cities have so much to offer.
"If we had won the benefits would have been huge, so we had to give it a try.
"Given that our cities have so much in common, we are hopeful that further opportunities to co-operate such as this will arise in the future."
The government-led programme was inspired by Liverpool's time as European Capital of Culture in 2008.
The chosen place will succeed Derry-Londonderry, which is the City of Culture for 2013.