Portsmouth FC Fratton Park Tesco plans unveiled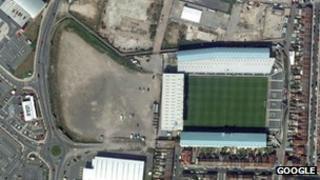 Fans and neighbours of Portsmouth FC can inspect plans for a Tesco store behind the club's Fratton Park ground.
The club, owned by Pompey Supporters Trust (PST), backs proposals for the 5,500 sq m (59,000 sq ft) development behind the Fratton End on Fratton Way.
The plans are on display at the stadium's Victory Bar.
The club, which spent 14 months in administration, said money from the scheme would allow it to carry out improvement works.
Property developer Stuart Robinson, who has been working with PST, bought land surrounding Fratton Park at the start of the year to allow the stadium area to be redeveloped.
'Substantial investment'
Portsmouth City Council previously said it would not grant planning permission for anything on the site unless Pompey's existing stadium was upgraded.
Chairman Iain McInnes said the club would receive "substantial financial investment" from the scheme.
He said the money would allow a backlog of planned maintenance and safety issues to be addressed but most of it would be ringfenced for future stadium improvements.
Planned works include new parking next to the North Stand, a new area for broadcasters' vehicles and improved facilities for disabled fans.
Tesco said, if planning permission was approved, the scheme would create about 300 jobs.
A spokeswoman for the chain said the exhibition would also act as an opportunity for jobseekers to register their interest in working at the store.
Plans will be on display from 10:00 until 18:00 BST and again on Saturday until 15:00.
Representatives of the club, Tesco and Mr Robinson's company, Point Estates, will be at the exhibition to answer questions and take feedback about the proposals.
PST took over the running of Portsmouth FC, which had been £61m in debt, in April after buying Fratton Park from the club's former owner, Portpin.